See on Scoop.it – tech | design | education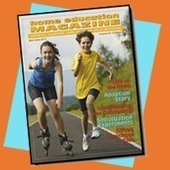 Unschooling is a vibrant life.
Unschooling is a method of homeschooling that puts the desire, drive, motive and responsibility for life – this thing we call learning, or education – in the hands of the learner.
Unschooling is what defines a life lived on one's own terms, whether you're a child, a teen or an adult.
Unschooling children are supported to pursue, or self direct, the myriad of things that are of interest to them, eat foods they enjoy and in quantities that are satisfying, sleep and rest according to their individual needs, choose friends of all ages or none at all, engage in the world in unique and powerful and self directed ways.
Unschooling learners are interdependent. In partnership with their parents, other adults, friendships, acquaintances, groups, communities and others, they learn to navigate the world, resource their interests, discover their vital roles and responsibilities in their own as well as other's lives.
Unschooling families have learned how to listen deeply to one another, communicate respectfully and with love, to support each other's interests and desires.
Unschooling parents have learned to trust the natural unfolding of the empowered learning process in their children, whether they be infants, toddlers, 10 or 17 or 30.
The process of unschooling is not a guarantee of a successful and satisfying and productive life, but when lived fully and responsibly, there is enormous evidence to show that it leads to intelligent, mature, thoughtful, compassionate, confident and highly capable persons, as children, teens and adults.
See on unschooling.com