See on Scoop.it – tech | design | education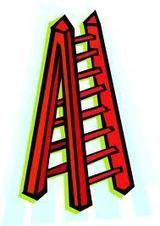 Thomas Adam Johnson's insight:
"The idea or plan is presented to the group. Then the group moves through the following steps (moving from one rung of the ladder to the next):
Step 1: Clarify
Ask clarifying questions to be sure you understand the idea or matter on the table. Avoid clarifying questions that are thinly disguised criticism.
Step 2: Value
Express what you like about the idea or matter at hand in specific terms. Do not offer perfunctory "good, but," and hurry on to the negatives.
Step 3: State concerns
State your puzzles and concerns. Avoid absolutes: "What's wrong is . . ." Use qualified terms: "I wonder if . . ." "It seems to me . . ." Avoid criticizing personal character or ability and focus on ideas, products, or particular aspects.
Step 4: Suggest
Make suggestions about how to improve things. This step is sometimes blended with step 3: people state concerns and then offer suggestions for addressing them. There is no set time limit for this process: It can be done in a few minutes or over the course of an hour."
See on makinglearningvisibleresources.wikispaces.com